Children of Hazrat Abdolazim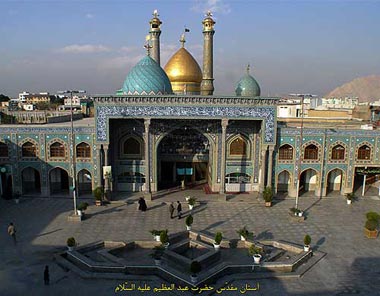 Children of Hazrat Abdolazim

In the book Omdatoltaleb, it is written: hazrat abdolazim had a son called Mohamamd who was very pious, committed to prayers. This Mohamamd died and no child was left of him. Abu Nasr writes: hazrat abdolazim had a daughter called Omm salmeh.
This lady married with Mohammad ibn Ebrahim bin Ebrahim bin Hassan and she gave birth to three sons called Hassan, Abdollah and Ahmad. According to this saying, hazrat abdolazim had no grandsons from his son and his progeny come from his daughter.

Mohaddeth Ghomi writes when I was in Najaf and my teacher was agha mirza fathollah, known as shariat esfahani, I heard from him that said:one of the scholars has written a book in which the sadats who were displacedd from one place to other has been written. In the book it is written: mohammad bin abdolazim was transferred to Samerra and died in the land of balad and Jalil.

This cemetrey is located a short distance from samerra is famous for its keramat and kashf(miracles). However, some say it is not true and say that it is the tomb of Mohammad ibn Ali Hadi. In the book safinatolbehar it is narrated from the book majdi that khadijeh dauther of ghassem married with hazrat abdolazim. His wife was the cousin of his own father.