Short About Hadrat Fatima Masoumah (SA)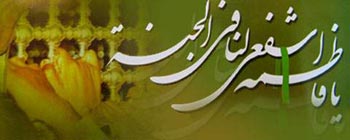 Short About Hadrat Fatima Masoumah (SA)

The name of this divine lady was Fatima and her nickname was Masoumah. Her father was Imam Musa al-Kazim (AS), the seventh Imam of the Shi'ites and her mother was named Najma Khatun who was also the mother of Imam Reza (AS), the eighth Shi'ite Imam.
The Reward of Visiting Her
1- Sa'd bin Abdullah said:

"I asked Abal-Hassan Ar-Ridha "a.s." about Fatima the daughter of Musa bin Jafar "a.s." so he answered:
"who ever visited her, he would win paradise".(1)
The Holy City of Qum in Ahadith

Salutations to the People of Qum
Imam Jafar Sadiq (AS) has said:
"Salutations to the people of Qum, Allah (SWT) will shower their cities with the required rainfall and will bless them and turn their calamities into safety and goodness. The people of Qum are devout performers of Salat (Namaz). They are jurisprudents, scholars and explore the realities and perform good worship."
(Bihaar al-Anwar, vol. 60, p. 217)